Diary » Winter 2008
22.11.2008
In the morning when I woke up I looked through the window. There was snow. Although only few centimeters but yet. I am curious what our hens – Brahma hens will do. It is snowing all day so I tided wood cut by Vlado. We released lynxes to the pen. Initially they "looked" why everything is white but they ventured gradually and started to play in the dust snow until they trampled down all snow and it started to be slippery. In the evening Erika, Dáška, Miloš and Jirka, who will travel back to Ostrava city in the night, visited me. They saw bear´s tracks in the Bystrička valley in the Malá Fatra Mts.
23.11.2008
In the morning there was more than half of meter of snow… I had to go to the village for Miloš because although the road was raked off but it was still under snow. We started to film and took pictures of the lynxes on the snow. Muro came to meet the snow as the first one. Together with Lili they immediately trampled down the whole place. It was nice to observe their hunting games and the snow whirled so that sometimes we did not see them. It was heavy snow all time and when also Líza slacked we came back to the cottage very numb and wet. We have a small problem with wood because it is completely wet and when I put it close to the cottage it fell down during the night and so it was covered by snow… As Siska says: " Who does not have things in his mind he has in his legs… as well as in the arms…"
24.11.2008
It is snowing all day and I stop to like such gloomy weather… It is -10°C outside…
25.11.2008
Finally, the sun rises for a moment… Immediately I take out a camera and try to film something but the clouds came as on purpose. I had a time to release only Muro. Because the sun melts the snow a little bit a good slide is on the road. Also the lynxes in the pen made the same mistake and now they have a small problem with the coordination of movement.
26.11.2008
In the morning I went to the village for Erika and Miloš. We took Erika to the cottage and we came back because of the meeting with State Forests of the Slovak Republic due to our cooperation in the project. Therefore, we have a new participant of the project. The foresters know the terrain very well so if we will obtain the lynxes by satellite telemetry they will participate in the scientific part of the project… Gradually we released Muro and Líza and we succeeded to film several nice sequences in sunny and snowy nature. Líza was not happy that she is closed in the room and she tried to come to Muro. So we released her to the pen where she growled. Finally when we released her she immediately started to play with Lili. She was a little bit nervous. When she stopped to be interested in it she went down to the brook and swam to the other side and went up to the slope. Immediately we followed her but she went still higher and higher but only if she saw us. When she passed the fence, now not under current, because it did not function for the high snow cover, we started to be afraid of a long trip as the week before.
She remembered very well a site where they could pass successfully on Sunday. When also I passed the fence I had to start to laugh because Líza was sitting at the edge and she was waiting for us. When I called her she came to me and came back to the fence. Erika and Miloš brought meat and together with Lili we tried to lure her close to the cottage. She was like a small baby she could not decide where she will go. Finally, hunger won as well as the fact that she was completely wet and she already had frozen whiskers. Finally she passed through the brook on the wood and although she fell down she came to the cottage. Here she attacked Lili for several times and then she entered the cottage. Immediately Muro started to lick her and after 10 minutes nobody knew that she was in the brook. Dried well she lay on the table and together with Muro they decided to got into their most favorite activity – sleeping… Erika and Miloš stayed in the cottage and I came back to Bratislava where there was no signs of snow…
27.11.2008
Miloš controlled a salt marsh above the cottage where the animals go. The lynxes are hungry and thus more nervous. They have seasons in which they would like to eat more or less. Before the evening we released Muro, he played with Lili. I think that his hunting technique is improved by these trainings. We left Líza in the pen because it is almost evening and is dark in the forest.
29.11.2008
In the morning Líza approached the fence with hens. One lay on the ground and I thought that it will die but, fortunately, it recovered. Other three went away from the fence. The lynxes ran with Lili. Miloš was in the field for a long time, he observed animals and he took Lili with him. Under the snow Lili found a scat of a wild lynx, a man does not have any chance to find it. Of course, the scat will be analyzed. In the evening the lynxes were very nervous, they growl. After feeding we open the door to our room to let them run a little bit.
04.12.2008
Today we finished the path from wooden rounds to the brook. It rains with snow often and mud is everywhere around the cottage. We weighted the lynxes: Líza: 11.7 kg, Muro: 14 kg. In the morning both ran outside. They are voracious and still hungry although they obtained approximately 1.5 kg of beef and 0.7 kg of turkey's necks. In the evening we played with them. Both enter to the smaller crate, actually they go there together. In the yard Lili, escaping before Muro, made Erika fall down, her legs flew to sides and Erika fell down on her hands and she injured her nose hitting the ground.
06.12.2008
I made a fire in the furnace in the lynx´ room. The room has to get dry because the window is opened the whole day and the lynxes move outside and inside as they want. The furnace was hot when Muro jumped on it but he immediately jumped on the timber under the ceiling where they usually sleep. Líza was afraid to jump onto the furnace so she came out to the sideboard from which she tried to come to Muro. She succeeded after a moment. It was a huge jump, more than one meter longer in comparison with the jump from the furnace.
07.12.2008

Muro was crazy… After a long time he started to play as small lynx cub and he started to suck "milk". From the carpet…
08.12.2008
Listen to our "domestic" kittens when they see that we prepare a meal for them… Otherwise they eat as without senses…
Weight:
Muro 14 kg
Líza 12 kg
Only sound...
13.12.2008

Saturday

The weather of today was relatively uncommon for December. During the day the temperature rose up to 25°C on the thermometer. However it did not put our lynxes out of balance and they did their lovely rituals. By morning, wailing, they reminded us that they are accustomed to the regular supply of food. During the weekend we had a nice visit. Marek, with who we bargained also the cooperation with Land Rover, helped us. It was very comic to observe Tomáš with Marek when they decided to build a bird box. After a momentary effort to use the wood in all possible ways, we can not believe to see into what a colossal building the bird box turned. You can see for yourselves J.

We put bird-seed and sunflower there, and we waited for the first bird visit impatiently J. Inter alia, our lynxes were running with Lili in the yard. We released them separately but we did urge them to come back home for a long time, a piece of meat will do it for sure. In the evening we were surprised by their nervous behavior although they ate their common dosage of food. Firstly, together with Tomáš we could not explain it, especially Líza´s moody behavior to Muro but after the consultation with Miloš we offered them the second dinner and finally they were calm. The lynxes started to communicate by their usual way – savage playing. We thought that nothing could surprise us but it was not true. During one of the evening control of the yard, after opening the doors, I saw a fox close to the fire place. It looked as she was ignoring the fact that somebody entered its world. Probably the fox decided to count our hens but Lili decided to show her what she thinks of it. The fox ran away under the fence which had to give it a shot it so it will not come back so soon :)
Firstly, Marek started to build the path...
As a good manager he organized the construction of a bird box. All parts and spare parts were close at hand ☺.
And here is the result… The birds still do not come there, it is warm outside. We will wait until the weather gets colder…

14.12.2008

Sunday

Sunday morning was working time as usual. According to the tools in their hands, Miloš with his son Miňo suggested to us how the day will continue. Tomáš with Marek joined in wood cutting and they did not take a shame by their rage for work. They worked almost for all day. There is never enough wood for winter, especially when the frost comes to the valley. We also did not forget about our lynxes, they ran in the afternoon when the sun shined for a moment. They ran with Lili again. She did not choke of the running with them neither after warning touches of the lynxes to her fur. She still had a lot of energy to provoke the lynxes. During observation of lynx-dog playing one can not overlook their fluent and exactly directed movements during which they do not use a lot of energy to reach their goal. It looks as if they have it perfectly measured and they save energy. On the contrary, Lilina, escaping before the lynxes, used so much energy as if she ran for her own life. But everything is within the frame of relative respect. In the evening a mouse was trapped and Líza was successful to catch it. She did not have any problems with desert, there was no signs of it at the moment.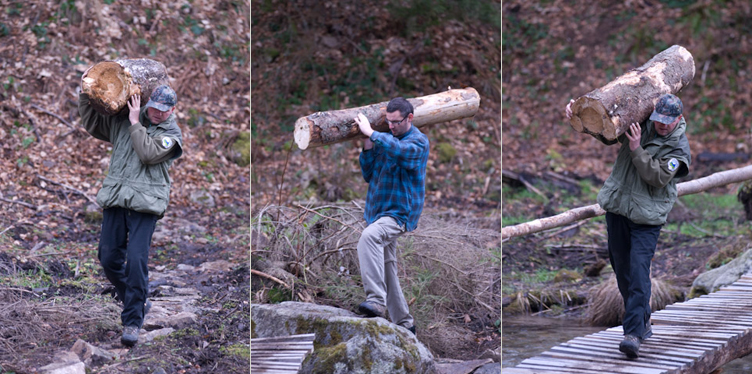 15.12.2008

Monday

For me and Tomáš the day started as usual. Morning feeding of Muro and Líza, hens as well as our dog friend. It is comic to observe how they register their portions. Who got it as first relaxed calmly whereas the second one nervously waits for his portion with individual signs of waiting. Last times we did not cut the meat too much and we keep it for sharp teeth of our carnivores. Surprisingly, they did not have any problem with it, but they looked that they like to crunch the bones. The initial habit when they come to the bowl is also comic. During eating they growl to manifest their satisfaction with the food and they also defined their space which they have around their bowls in that time. After having fed well they manifest their nearness and presence with cleaning and licking each other. It looks as a perfect siblings´ love and one can not to stop to look at it.

22.12.2008
Tomáš and Becko leave. I stay there with Miloš jr. and Marek from Žaškov village. Guys take care of lynxes nicely. They clean their room and also the cottage is tidy.
24.12.2008
I drive Marek home. Miloš jr. stays in the cottage. In the evening at 04:45 p.m. we leave home for Christmas-Eve dinner. We give it to the lynxes earlier. Together with Erika we come back to the cottage at 09:00 p.m. with presents for the lynxes.
25.12.2008
I measured the perimeter of their necks. Líza has 30 cm and Muro 34 cm. I control the tracks in Blatnianske jazero lake but there are no signs of lynxes or wolves. In the evening I shorten collars to the needed perimeter.
26.12.2008
I monitor the area opposite to Blatnianska valley, but there are no carnivores. Only a small number of deer (strong deer males).
27.12.2008
I monitor the area opposite to Perušín through Ľubochnianska valley on the other side. On a clear-cut I observe two deer – the older one with 12 – 14 tines on its antlers and the younger one with 6 tines. Otherwise I see only hazel grouse, martens and foxes.
28.12.2008
Around 10:00 a.m. we heard three shots not so far from the cottage. It looked that they came from the clear-cut above the cottage. I passed this side but I did not found any signs of people. We left Muro and Líza to run outside. In the morning it was -14°C. It is a record of this winter yet. Yesterday Miloš jr. made a fire in the lynx´ room where it is like in the fridge because the window is open.
30.12.2008
During monitoring at the end of the valley I found tracks of a big bear. In the evening Tomáš with Siska arrive to replace us.
31.12.2008
It is very cold. It freezes as cracks. The vicinity of the brook is frozen finely. Flocks of the ice coating are almost 2 cm big. At the night I prepare cameras for time-lapse sequences. Until the morning they are completely frozen and covered by ice-coating. At quarter to midnight we come to the foresters to spend a New Year with them. It was one of the most silent and the best New Year Eves I ever experienced. Without sky-rockets and other similar things. But I hear Martin city, especially Smrekovica where there is a lot of pyrotechnics. Poor animals in the forests.